Once you've set up your partner account via get.vectera.com, it's time to share the Vectera vibes and collect your rewards.
You can either share the link as an affiliate and let your customers find their way in Vectera or you can create and manage the account for your customer as a reseller partner.
Sharing the link as affiliate is by far the easiest. You share the link, a new customer signs up, you get the commission.
Managing accounts for your customers and doing a signup using their name is possible as well. There are a few more steps involved to do so:
Create and manage your customer's account
Before you create an account for your customer, it's best to check if your affiliate account is ready and that you're logged out of your Vectera account. Make sure you have the URL of the preferred promoter campaign (30% or 15%-15%) and follow these steps:
1. Copy the promoter link (eg. http://www.vectera.com?fpr=xxx) and paste it into your browser. Click on 'Get started, it's free' to create a new account.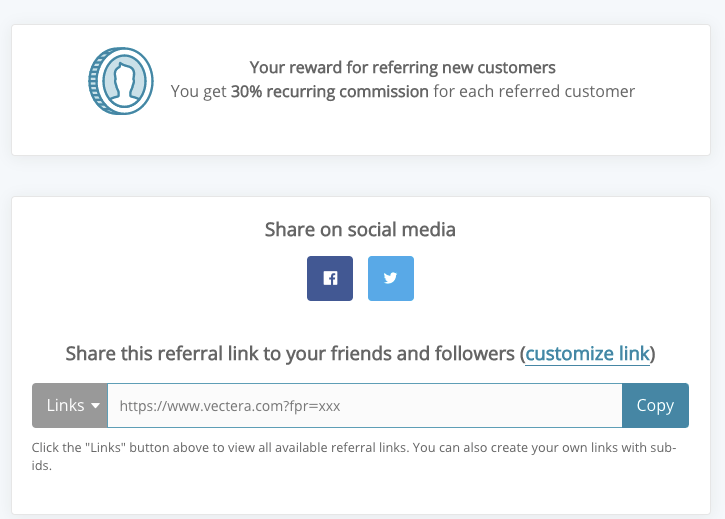 2. Create an account using an own email address eg. client1@mydomain.com.
This account will function as an admin for your customer's Vectera account.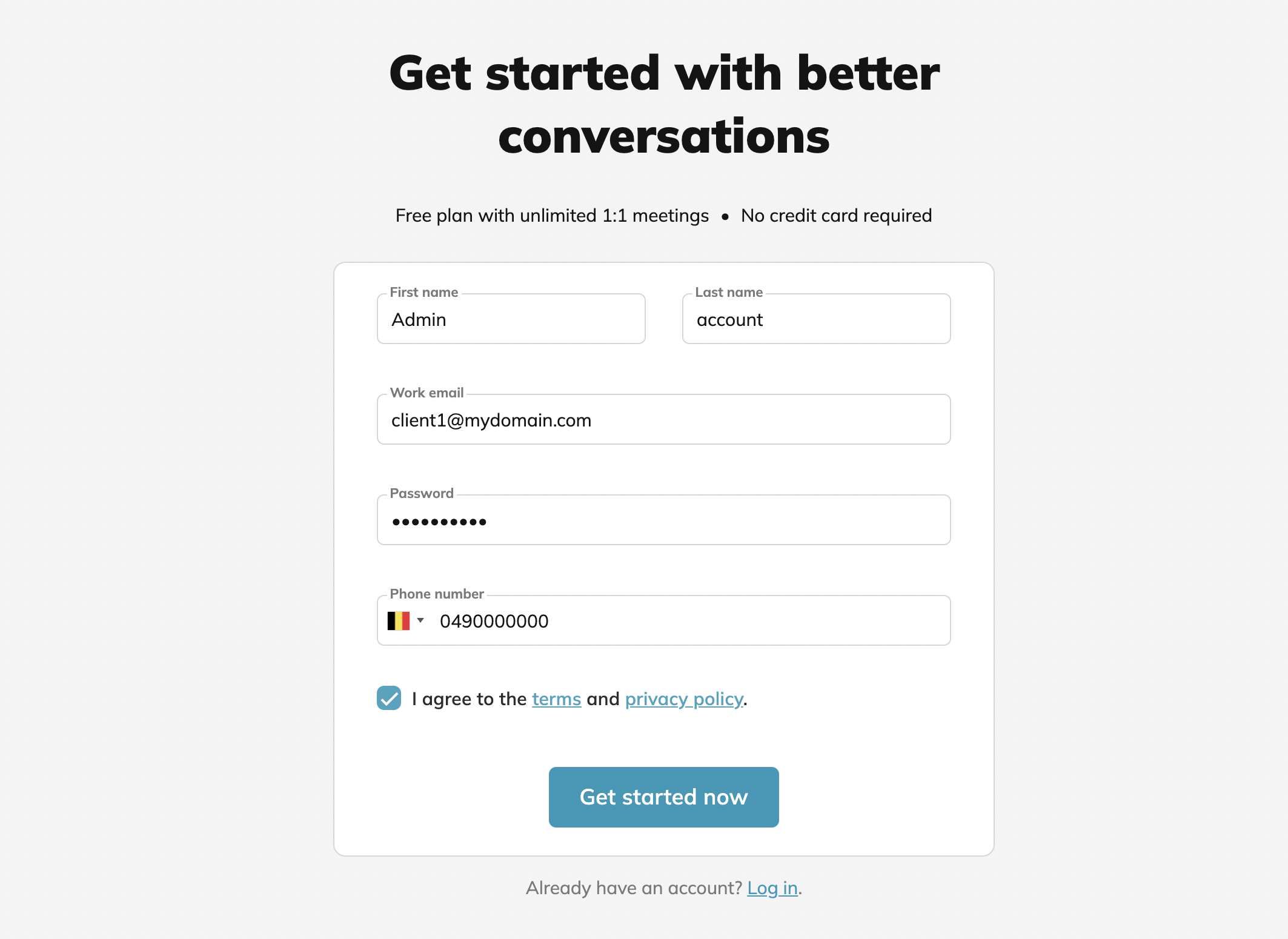 3. Go through a short onboarding flow: Select the company size and type (Eg. 2-10 employees and Consulting), fill in the company name of your customer and click on Finish in the last step.

4. Invite your customer to create their own account following the steps on the team members page. You can also create the account and hand over the login credentials.
When the customer has accepted the invite and has created his account, you will see on the team members page that he joined the team.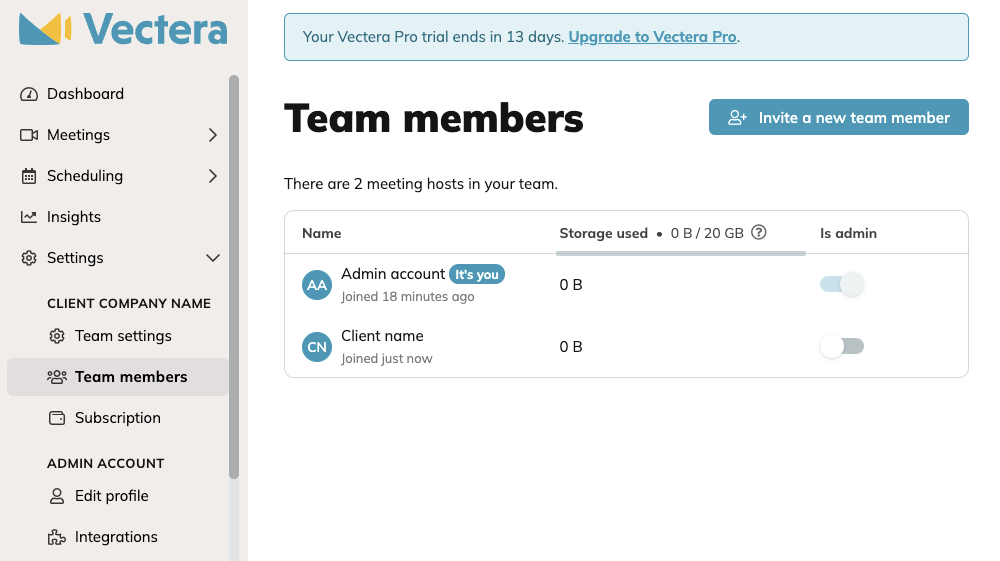 It's also possible to set up the branding first (step 5) and invite your customer afterward.
5. Configure the branding for meeting rooms and bookings pages, and integrate Vectera into their website and workflow.
6. Invite all the other team members so they can set up their accounts and connect their calendars.
7. Set up a yearly or monthly subscription for the team on the Subscription page.
Click on the button 'Upgrade' in the preferred plan.
The checkout will be created for the number of team members that are currently active. If your admin account will not be used for online meetings, you can ask the Vectera team for a coupon so you won't be charged.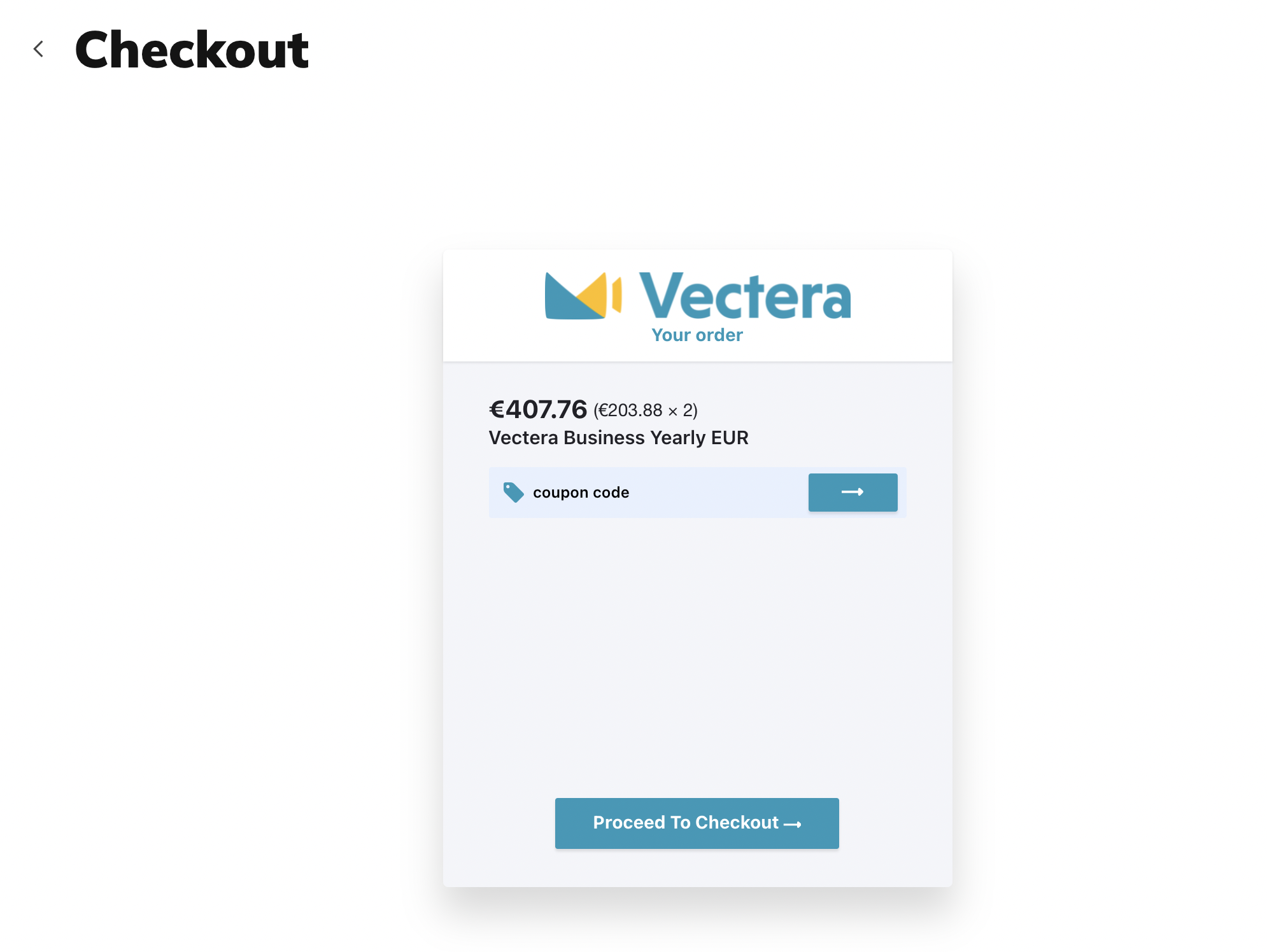 8. Get your reward! When the subscription becomes active after the trial period, you will notice in your affiliate portal that the lead became a customer.
---
Vectera is looking forward to your feedback so we can offer you the best scheduling and customer meeting experience. Set up your next customer meeting right away by logging into your account or sign-up for a free, fully-featured trial of Vectera!