Thanks to the Vectera extension, it's possible to invite people in your Outlook or Office 365 calendar and create a new meeting room or select an existing meeting room. This is also possible in the Google calendar.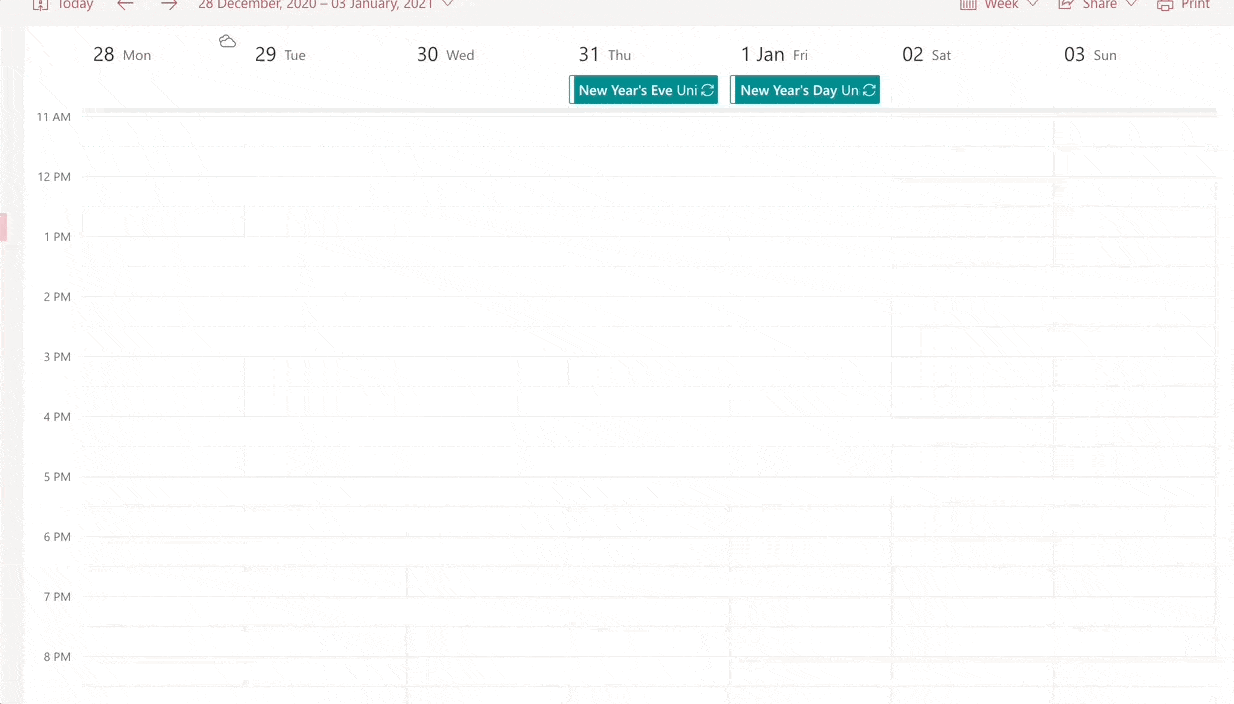 To use this feature you will need to use Google Chrome, Opera or Edge (only the latest version) as browser and have the Vectera extension installed!

It's not possible to use this feature in the Outlook/Office 365 app.
How to use this feature from within the Outlook/Office365 calendar?
Follow the steps below to invite your guest and select/create a meeting room from within your Outlook/Office 365 calendar:
Make sure that you are logged in to your Vectera account and that the extension is active in your browser!



Go to your Outlook/Office365 calendar and select an empty time slot in your calendar.



Click on the blue button 'Vectera meeting'. The 'More options' menu will open automatically.



Add guests to the event by typing their email addresses.



Now you have the option to create a new meeting room or select an existing one
5.1 Create a new meeting room:
Just click in the empty box next to 'Create a new meeting room:' and type the name of the meeting room. Then click on the button 'Create'.

5.2 Select an existing room:
If you want to use an existing room, just select the name of the meeting room below 'Use an existing meeting room:'. If you have a lot of rooms you can use the search bar to search for the specific meeting room.
If you first select the meeting room and afterward add guests to your event, a Skype session might be added automatically. Don't forget to disable the Skype session to avoid confusion!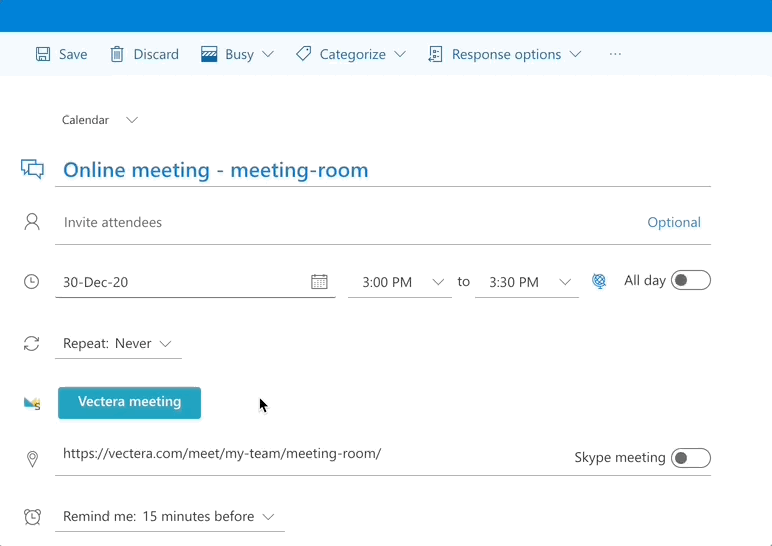 Once the meeting room is selected or created, you will notice that the name of the event and the description are automatically filled in.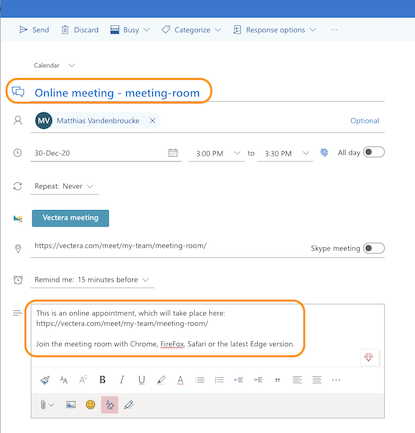 6. Hit send to invite your guests.
---
Vectera is looking forward to your feedback so we can offer you the best scheduling and customer meeting experience. Set up your next customer meeting right away by logging into your account or sign-up for a free, fully-featured trial of Vectera!