What the integration does for you: all new customers that schedule a meeting on your (team) booking page in Vectera will automatically result in new leads on your Hubspot account.
Before you start integrating, note that you need the "Business plan" in order to use this feature. Integrations are on the organization level, meaning that every team member will be connected to the active integration.
---
Connect Hubspot in Vectera
1. Go to the "Integrations" tab. You can find it on your Vectera account below settings, or just click this link: vectera.com/integrations/
2. Now you can see the available integrations, click "Hubspot"
3. You will be redirected to a page where you can authorize the Hubspot integration. Click "Authorize".

4. Log in to Hubspot (and select the relevant account if you have multiple accounts).
5. You will automatically connect to Hubspot and will be redirected to the Integrations page on Vectera after a few seconds.
You will notice that Hubspot is now an active integration
---
Booked in Vectera, contact added in Hubspot
When customers book a meeting with you or one of your team members, they will automatically be added to your contacts in Hubspot.
Example:
John Doe books a meeting with me: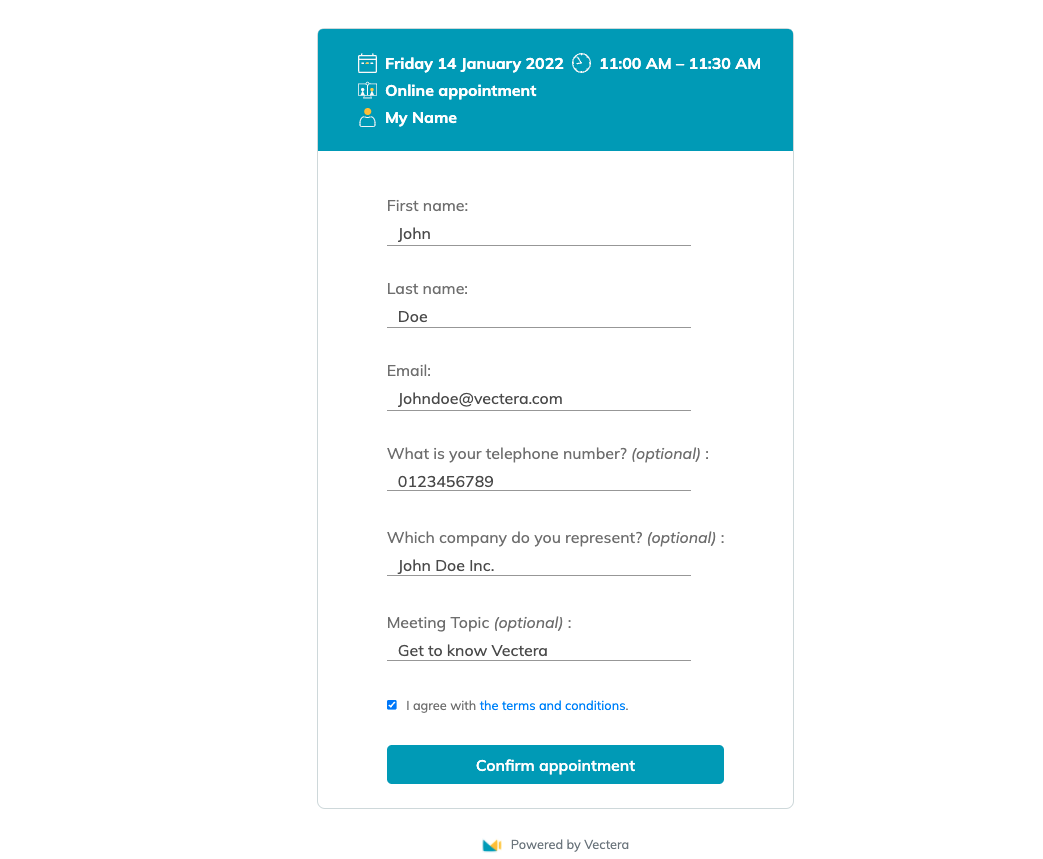 2. If I go to Hubspot - Contacts, I will see John Doe in my Contacts list

First name, Last name, Email and phone number will be filled out in the corresponding fields.
Note: due to technical reasons the company name will consist of the first and last name of the lead instead of the answer of the company question.
3. If I click his name, I will find the information from the booked meeting at "Activity" in a note.



---
Vectera is looking forward to your feedback so we can offer you the best scheduling and customer meeting experience. Set up your next customer meeting right away by logging into your account or sign-up for a free, fully-featured trial of Vectera!