Nowadays companies have customers all over the world. Therefore it is important to have pages in multiple languages.
Scheduler
The Vectera scheduler is available in seven languages: English, Dutch, French, Spanish, Italian, German and Lithuanian! Clients can choose the language of their preference on your booking page in the right upper corner:

After logging in, you can write the text in the language of your preference on https://www.vectera.com/scheduling/..
Meeting rooms
Vectera meeting rooms are available in English, German, Spanish, French, Italian, Lithuanian and Dutch.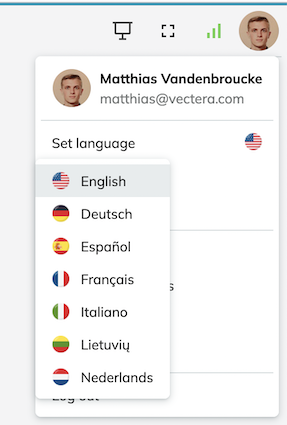 Read this help article to find out how you can switch the language of your meeting rooms.
Dashboard
The Vectera dashboard is currently available in 6 languages:
English
German
French
Spanish
Italian
Dutch
You can update the language in your profile or find more information in this help article.
---
Vectera is looking forward to your feedback so we can offer you the best scheduling and customer meeting experience. Set up your next customer meeting right away by logging into your account or sign-up for a free, fully-featured trial of Vectera!