In this help article we will show how to create an appointment type for single user teams and non-admins who want to create a personal appointment type.
To create a personal appointment type as a team admin (more than 1 team member) visit this help article!
For more information on team appointment types (more than 1 team member) visit:
When you've connected your calendar for the first time, Vectera will have created 1, 2 or 3 appointment types for you. You can either edit them or create a new one.
1. Click on 'Create new'

2. General settings
2.1 Give your appointment type a name and description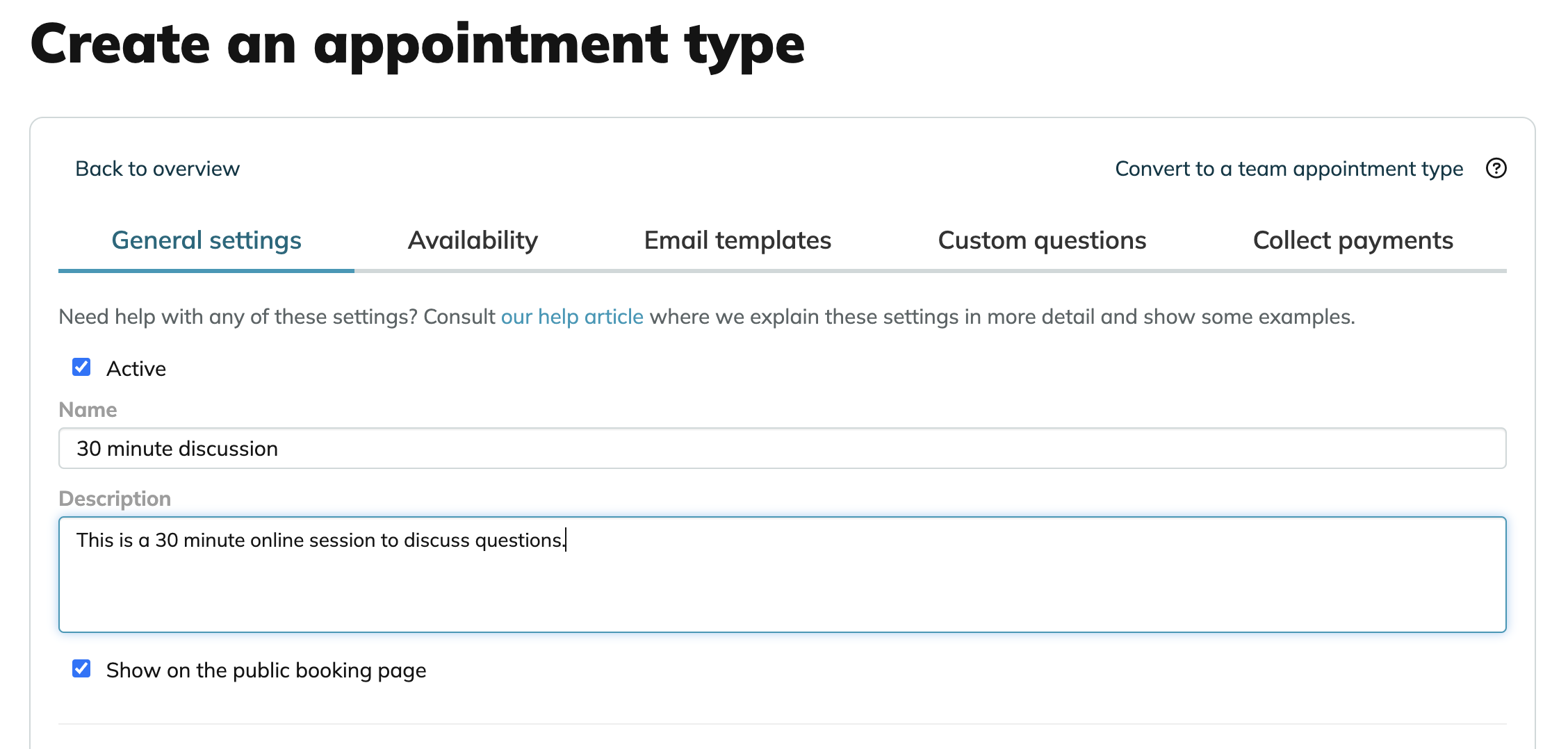 To show the appointment type on your personal public booking page, make sure that the box is checked.
2.2 Location of the meeting

If you check offline as a possible option, you will be able to add a location to meet in person.
For online meetings, a meeting room will be automatically generated for your client after an appointment has been planned. Returning clients will be directed to the same meeting room. The meeting room will be added to your dashboard.
Both you and your client will receive a confirmation email after an appointment has been booked with all the booking information.
2.3 Select the duration
Below the meeting location you can set the duration of your meetings. A meeting should at least be 10 minutes but has no maximum. If you set a duration of 60 minutes, the meeting room will not close after 60 minutes. The duration is to give an idea on how long the meeting will be.


2.4 Show advanced settings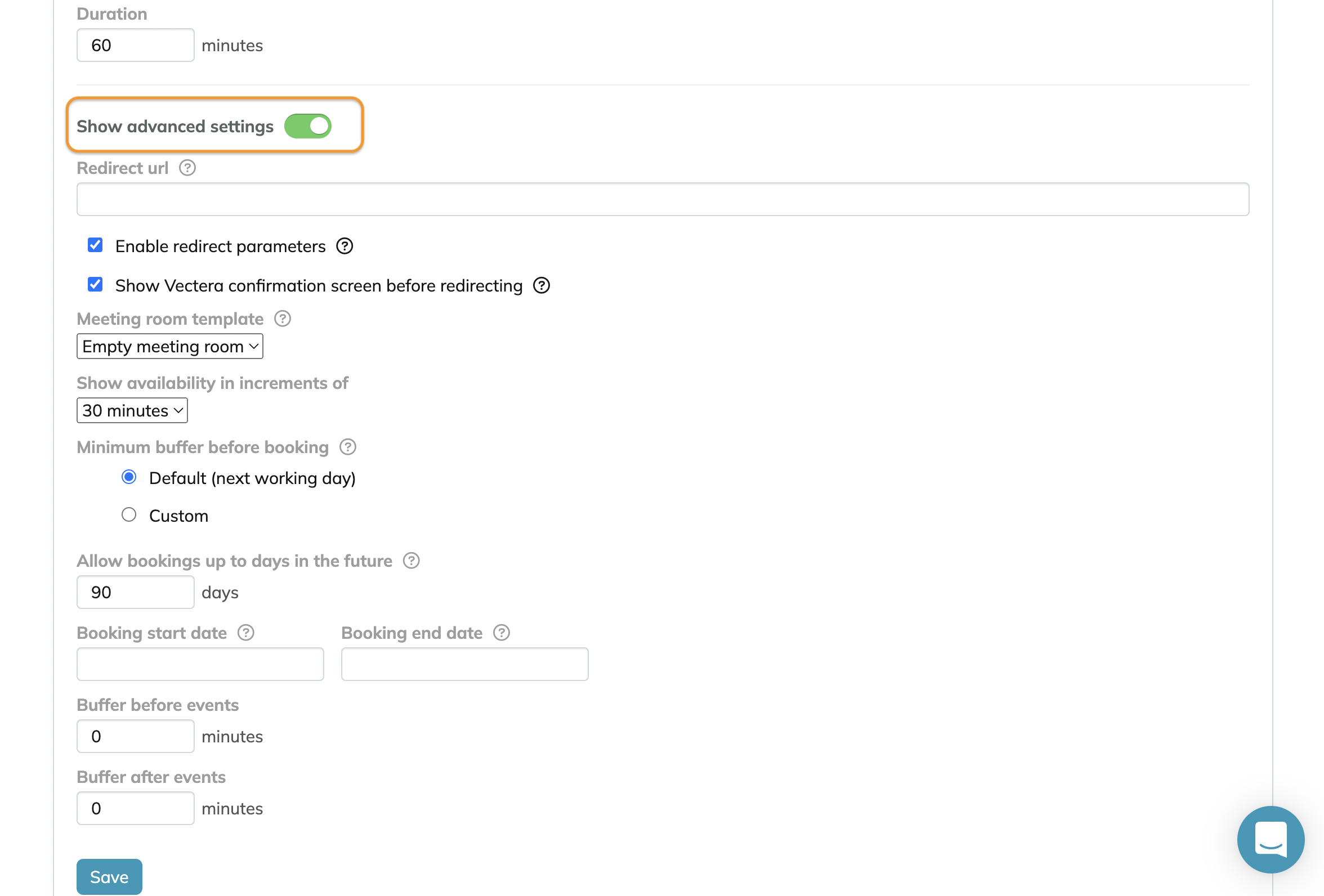 Below the duration you can enable the advanced settings. This includes the redirect after booking, meeting template and buffer options.


2.4.1 Redirect url
If you want to redirect the client after they made a booking enter a redirect url. Leave empty if you don't want to redirect the client.

Enter the URL to which you want your clients to be redirected.
Toggle off 'Show Vectera confirmation screen before redirecting' if you want the redirect to be immediate. If toggled on, the redirect will occur after 5 seconds.
In the redirect URL, the booking parameters will be added if enabled. These include:
Appointment type

Date & time of selected time slot

Location (online or offline)

First name, last name

Custom questions + their answers (if available)
You can use these parameters to build custom content on your website (eg. auto fill in a form). Ask your website developer for help!
2.4.2 Meeting room template
If you have created meeting room templates to have meeting rooms prepared in advance, you can also use them for booked appointments. Select the preferred template for this appointment type.
2.4.3 Show availability in increments of x minutes
Show availability in increments of 'x minutes' gives the possibility for your clients to book every 'x minutes'. If you pick 30 minutes and your day starts at 9AM, your clients will be able to book a meeting at 9AM, 9.30AM, 10AM, ...
2.4.4 Set up the buffer period when events can be booked.

Set up several buffers for your appointment type to perfectly optimize your availability for meetings.
Need more information on the buffers? Read this advanced article on availability and buffers.
3. Availability
Next to General settings you will find Availability. On this page, you can set up your availability and unavailabilities in detail.
All the fields in blue indicate that you're available for a meeting. This availability will be overwritten if your connected calendar has another appointment planned at that time.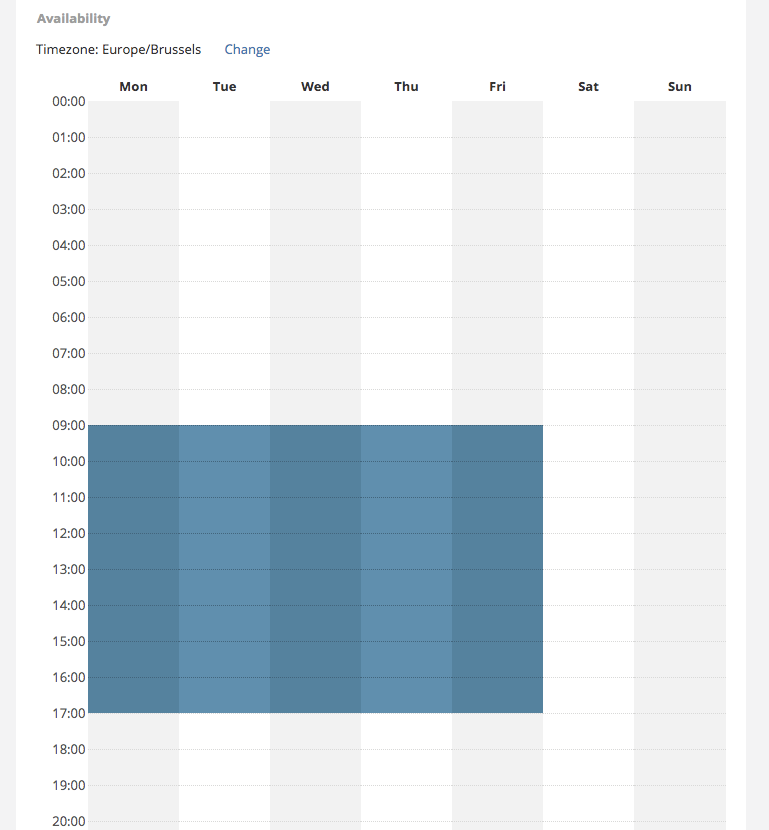 You can also select unavailabilities to block dates in your calendar for appointments.
4. Change the email template of this appointment type
If you would like to have a reminder for you and your client before the meeting starts, you can set it up here. A calendar reminder will be a notification from your calendar program. An email reminder is a reminder through email.
The reminders should be shown in minutes before the appointment starts, eg. 60 minutes.

It's possible to change the email template of the confirmation mail that your clients receive after booking a meeting with you. Change it manually or copy the templates of another appointment. Read here how to do this!


5. Add custom questions to have more information about your client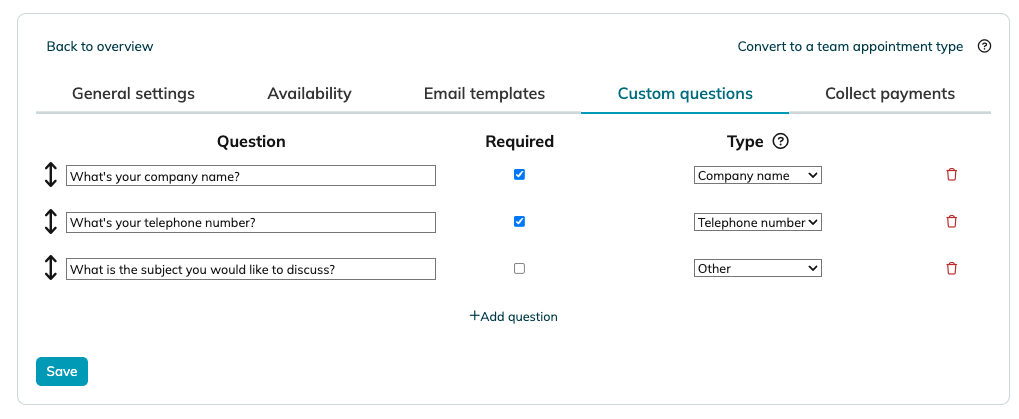 Click on 'Custom questions' next to Hosts to open the tab. On this tab, you can add custom questions that provide you more information on your client. You can ask for the company name, telephone number, a subject to discuss, ... You can make them required if you think it's useful!
6. Collect payments (optional)

You can add a required payment to your appointment type to collect payments using Stripe. Integrate your Vectera account with Stripe on the integrations page, save your appointment type before doing this! This help article shows how to make the integration.
After integrating with Stripe go back to Scheduling and click on the Edit button to continue to setup the required payment.
Select Payment necessary before booking

Fill in the Amount and select the correct currency

Add Payment terms if that's needed. If you link to another page, the link will be clickable.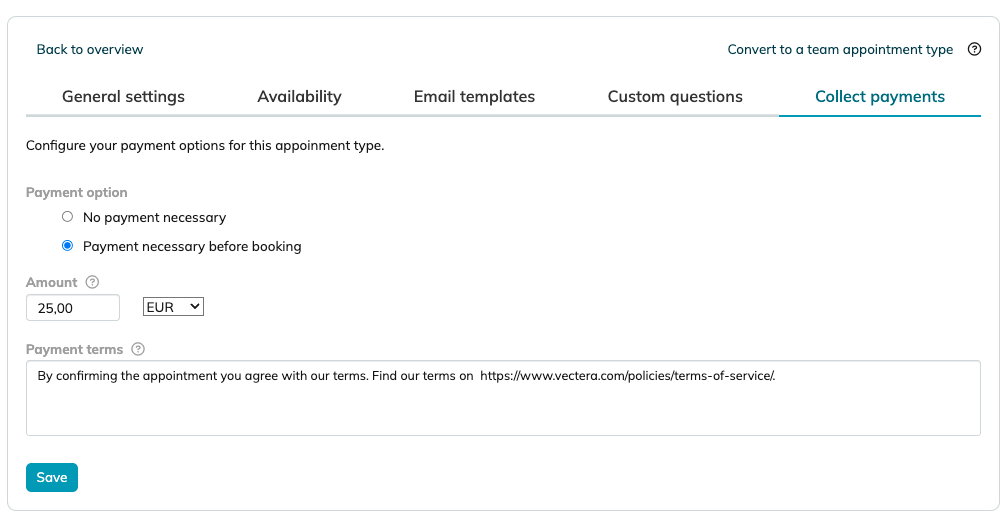 7. Save your appointment type!
8. Check if your booking page looks the way you want
Visit your personal booking url to see how it looks!
---
Vectera is looking forward to your feedback so we can offer you the best scheduling and customer meeting experience. Set up your next customer meeting right away by logging into your account or sign-up for a free, fully-featured trial of Vectera!